The Mute Devil and the Volcanoes of Southern Chile
"Trust in dreams for in them is the hidden gate to eternity."  Kahlil Gibran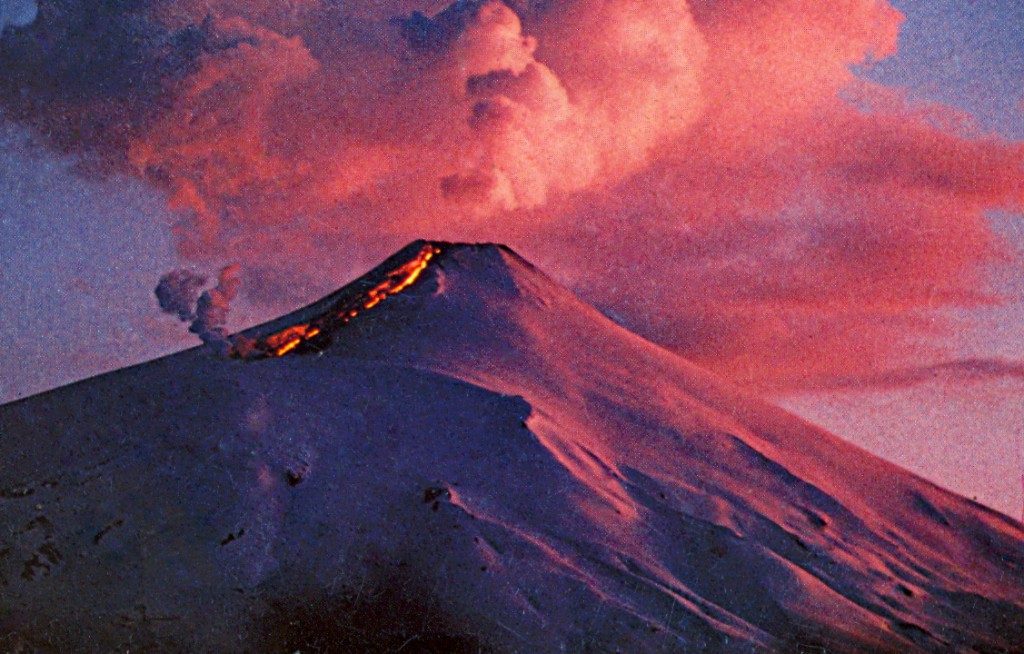 Volcan Villarica erupting in 1985
The first time I saw Volcán Villarrica, it was exploding, and torrents of fiery lava were pouring down its slopes. We were busy kayaking the Río Trancura, and the thought of skiing this pristine mountain never even crossed my mind.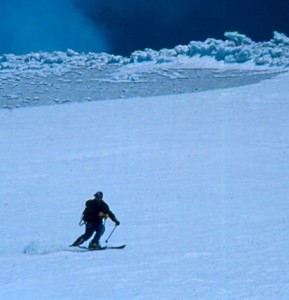 Kurt Casey skiing Volcan Villarica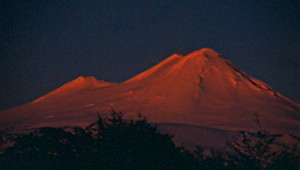 Volcan Llaima at sunset, 7000 vertical feet of perfect corn.
The magnificent rivers of Chile held me in their grasp for many years, and I enjoyed some incredible voyages, but the great mountains kept beckoning, and I finally answered their call.
Volcán Villarrica towers above the trendy tourist village of Pucón, Chile, and climbing the volcano has become one of the most popular pastimes in town. During the warm, summer days, dozens of adventurous tourists put on crampons for the first time in their lives and amble up a well-worn but steep glacial trail to the summit of the lofty volcano. In good conditions, it is an easy climb. But in bad weather, which is very frequent, the throngs of novices on the icy slopes have suffered many accidents and a few deaths, so the authorities managed to convince us that we had to have a guide.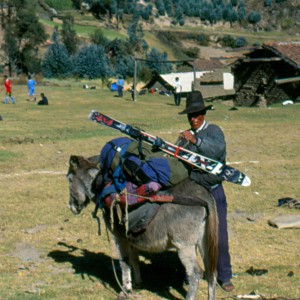 Peruvian ski lift for Nevado Ishinca
Guiding climbers up the volcano was the biggest gig in town, and the rates were very competitive. But finding someone who would also rent skis — and allow his clients to take off by themselves — took some doing.
"You want to ski the volcano?" the skeptical owner of Sol Y Nieve (Sun and Snow) asked.
Though there was a small ski area on the lower part of the mountain, the idea of summer skiing had not yet arrived in Chile, and he looked at us like we were a bit crazy.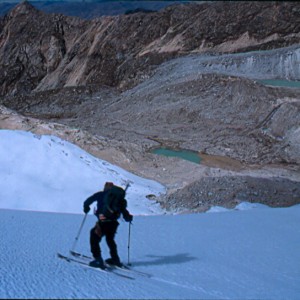 John skiing perfect corn on Nevado Ishinca, Peru
But, he didn't want to turn down business, so he found the key to his ski storage area and rented us the necessary equipment. The skis were somewhat ancient, but they looked reasonable, and he seemed to be the only source in town, so we paid a small deposit and made plans to meet him the next day.